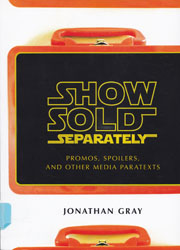 Show Sold Separately:
Promos, Spoilers and Other Media Paratexts
by Jonathan Gray
PN1992.8 .A32 G73 2010
New Book Island, 2nd floor
Trying to decide which movie to see at the movie theater can be a tricky job. If you have more than two people there weighing in on that decision, it makes it even more difficult. What about TV shows? How many of you had your Facebook friends spoil the end of Lost or Grey's Anatomy? Jerks. With all of the buzz surrounding the film and television industry, it's practically impossible to go into a show with a clean slate. This week's featured title looks at just that – the pre-and post-viewing experience, not so much the in-between.
Gray, media and cultural studies professor at UW-Madison, delves into the world of media paratexts, the the supplemental materials surrounding movies and TV shows, such as critic reviews, trailers and promotional items. The author first explains what exactly a paratext is and the various in which they can take, from tangible to intangible texts. He then goes on to analyze the effects that a paratext has on a viewer and our consumption of media. Utilizing everything from the Lord of the Rings to the Simpsons, Gray provides an excellent examination of the behind-the-scenes look from the viewer's standpoint.