Jim Winship will present "This Year in Havana" at 7pm on Wed., Mar. 31, at the Irvin L. Young Memorial Library (431 W. Center St.) Free and open to the public!
Dr. Winship, a Professor of Social Work at UWW, recently visited Cuba and will describe in words and photographs his experiences in a country that is both a closed socialist society and an exotic tourist destination.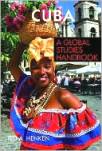 If you'd like to read more about Cuba, Andersen Library has materials. Searching HALCat, the online catalog, will find titles such as Encyclopedia of Cuba: People, history, culture (2nd-floor Reference Collection F1754 .E53 2003) and Cuba: A global studies handbook (3rd-floor Main Collection F1788 .H38 2008).
Please ask a librarian for assistance with finding materials.