Were you awake for the quake on Wednesday morning? Have you been following the news about the ongoing recovery from the January 12th earthquake (and its aftershocks) in Haiti? Are you interested in learning more about earthquakes?
Andersen Library has information, and so does the federal government.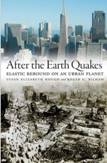 Search HALCat, Andersen Library's online catalog, to find titles such as Apocalypse: Earthquakes, archaeology, and the wrath of God (3rd-floor Main Collection, CC77.N36 N87 2008) and After the Earth quakes: Elastic rebound on an urban planet (3rd-floor Main Collection, QE539.2.E42 H67 2006).
Search Library article databases to find articles such as "Geologists to evaluate future Haiti risks" (Nature, January 21, 2010, vol.463:no.7279, pp. 276-277) and "Effects of recent environmental changes on global seismicity and volcanism" (Earth Interactions, 2008, vol. 13:no.4, pp. 1-14).
The U.S. Geological Survey has materials on earthquakes, such as Earthquake hazard in the heart of the homeland (including a shaking-hazard map for the U.S.), and there's even a "Did You Feel It?" web site for you to report whether you felt Wednesday's earthquake.
Please ask a librarian for assistance with finding materials.

The University Library is a federal depository with many federal, state, local, and international documents on a variety of current and relevant issues available to you in print, microfiche, CD-ROM, and electronically. Come check out your government at the University Library!