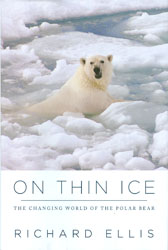 On Thin Ice:
The Changing World of the Polar Bear
by Richard Ellis
QL737 .C27 E47 2009
New Book Island, 2nd floor
As the snow comes down and blows around outside, it's hard not to think of our furry, white friends to the north. This week's featured title takes a look at the future of the mascot for climate change and the green movement.
Ellis, author of more than a dozen nature books and also an acclaimed marine artist, provides his latest work as a testament to one of the planet's largest land predators, the polar bear. He covers the history of the mammal from the type of their 'discovery' by the Europeans, their importance to the Inuit people, and efforts that are being undertaken to save them (or not). The author explains everything about the incredible creatures, from their mating rituals to their plights for survival in the current environment. If you're interested in using this as a springboard for research, Ellis helps out by conveniently including nearly thirty pages of references at the end.