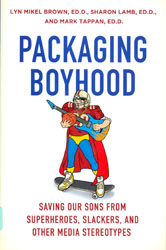 Packaging Boyhood:
Saving Our Sons from Superheroes,
Slackers and Other Media Stereotypes
by Brown, Lamb and Tappan
HD9970.5 .C483 U635 2009
New Book Island, 2nd floor
Growing up has never been easy, for some, harder than others. One could argue that the rise of television and the Internet has made it even harder to get through childhood emotionally unscathed. This week's featured title tackles how the media influences being a kid in this day and age.
Brown, Lamb and Tappan have compiled their research from surveying over six hundred boys from across the country about what it's like to be a young male. They examine the messages that the media sends these budding adolescents and how these seemingly positive portrayals contain dark undertones. The authors try to figure out what they wear, watch, hear, read and do in order to examine the effects of the external forces on the lives of these boys. They contend that parents and adults should help boys to process these images and encourage them to be themselves and not conform to media stereotypes.
And don't worry – you won't have to wait for the study of the girls, as they were the subject of the 2006 book by the same researchers (minus Tappan), Packaging Girlhood, HD9970.5.C483 U655 2006 (Main Collection, 3rd floor).