The Physic Dept.'s final Fall 2009 Whitewater Observatory Public Lecture, "Is Pluto a Planet? We debate; you decide!" will take place at 8pm on Fri., Dec. 4, in Upham Hall 140. Physics faculty Robert Benjamin and Paul Rybski will deliver a mini-lecture/mock debate. A public viewing session at Whitewater Observatory will follow the lecture at 9:15pm, weather permitting.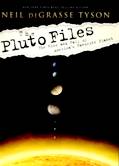 If you are interested in more information about Pluto, Andersen Library has resources. Search HALCat, the library catalog, to find titles such as The Pluto files: The rise and fall of America's favorite planet (3rd-floor Main Collection, QB701 .T97 2009). Search article databases, such as the Institute of Physics electronic journals, to find articles, e.g., "What is a Planet" (The Astronomical Journal, vol. 132, no. 6, 2006, pp. 2513-2519).
Please ask a librarian for assistance with finding materials.