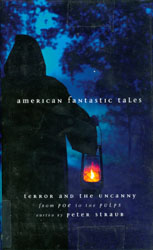 American Fantastic Tales:
Terror and the Uncanny
by Peter Straub
volume 1 – PS648 .F3 A57 2009
volume 2 – PS648 .F3 A572 2009
New Book Island, 2nd floor
We're now entering the last month of 2009 and winter seems to be making its first appearance for what hopefully will be a mild season (hey, I can dream, right?). The temperatures outside may cause you to stay inside and potentially curl up with a good book. This week's featured title will have you having you on the edge of your seat or screaming – or both.
Straub, the editor of the two-volume set, has compiled a collection of short stores from the some of the most well-known authors in the history of our country. Of course, there's a twist to the literary selections – they are representative of the horror and fantasy writing present from the 1800s to the present. Revolving around themes of the mysterious and suspenseful, the editor takes the reader into the world of the fantastical with writers from Poe to King, Melville to Cheever. The best part – most of the stories are ten to twenty pages and make it easy to jump around. On the other hand, you might not be able to put the books down…