Women have politically impacted the role of the United States government ever since the 19th Amendment was passed when they were finally granted the right to vote. But just how much do you know about the women who have served in the U.S. Congress and brought about historical and political change?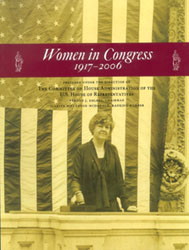 The House of Representatives has compiled a thoroughly informative book commemorating the women who have served in Congress, from Jeannette Rankin, the first woman to serve in Congress, through the many current female members serving their constituents today. Capturing the vivid history during the times these women served, the book provides biographical information on each female representative, including how they became active politically, the years they served in Congress, their voting records, pictures, and personal quotes. Check this book out and learn more than you can imagine about the political history of the United States and how women have changed history by getting involved in politics.

The University Library is a federal depository with many federal, state, local, and international documents on a variety of current and relevant issues available to you in print, microfiche, CD-ROM, and electronically. Come check out your government at the University Library!