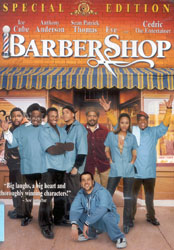 Barbershop
Metro-Goldwyn-Mayer Pictures
PN1997.2 .B37 2003
New Book Island, 2nd floor
When Barbershop was released in 2002, it ruffled more than a few feathers. Some viewers found remarks about African-American icons, like Jesse Jackson, irreverent and distasteful. On the surface, Barbershop is a story about Calvin (Ice Cube), who runs the barbershop he inherited from his father on Chicago's South Side. He's got dreams and this shabby business is stalling his progress. But as the business begins to slip through his fingers, Calvin gets a clue about what his barbershop really stands for. Calvin's fellow barbers are side-splittingly funny, including Eddie (Cedric the Entertainer), who always tells it like it is. Jimmy is well-educated, but a total snob and he can't stand Isaac (Troy Garity), the barber who hasn't figured out that he's white. On a deeper level, this movie is not only about the social institutions that create community, but about individualism and the "average joe" as the defining element of cultural identity. But don't let all that deep stuff scare you – this movie is hilarious.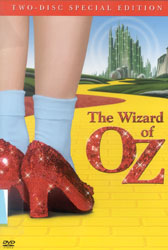 Wizard of Oz
Turner Entertainment
PN1997 .W59 2005
New Book Island, 2nd floor
Follow the yellow brick road … to adventure. Every year, I looked forward to watching this magical tale when it returned to television. Once, I made the mistake of watching it alone on our dark, cold TV porch and nearly fainted in terror when the Wicked Witch of the West appeared on the scene. No childhood would be complete without the story of Dorothy, who, with her little dog Toto, Scarecrow, Tinman, and the Cowardly Lion, make their way through the witch-infested woods to find the Wizard, who will send Dorothy back to Kansas. Relive the magic of Oz with this 2 DVD set. Disc 2 includes documentaries, trailers, a photo gallery and lots more memorabilia.