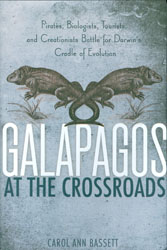 Galápagos at the Crossroads:
Pirates, Biologists, Tourists and Creationists
Battle for Darwin's Cradle of Evolution
By Carol Ann Bassett
F3741 .G2 B38 2009
New Book Island, 2nd floor
Back in grade school, I remember learning about the islands off the coast of Ecuador where thousands of species of plants and animals could be found only there. The islands also provided Darwin with the scientific evidence to support his theory of natural selection. This week's featured book alerts readers that the birthplace of The Origin of Species is at risk due to economic exploitation.
Bassett, writing instructor at the University of Oregon, presents the case that the Galápagos Islands, known for their natural and unique beauty, could (or more accurately, will) be lost forever if something doesn't change. She tells the history of the islands and their exploration by Spanish conquistadors and adventurous scientists and naturalists. The author then takes a chapter to discuss each stakeholder in the current situation, from the tour companies to fishermen to the pirates. If you are looking for an example of the battle between the natural environment and human encroachment, this book provides the perfect case.
One more thing, which I (as a librarian) thought was cool: Bassett not only includes a bibliography, but breaks up the sources by type, with books, magazines/journals, etc. – makes your life easy when trying to figure out citations!