Through November 15th we have access to Alexander Street Press's "American History in Video" collection, which contains more than 1500 titles (500 hours) of newsreels and documentaries from such sources as PBS.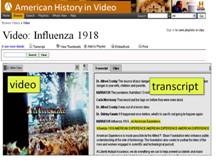 Since seasonal and H1N1 flu references are everywhere this fall, of course I searched for something about flu. I was not disappointed.
See the "Influenza 1918" episode of the PBS American Experience series (1998).
Of course, you can search for other topics that interest you. You can search for and view Universal newsreels from particular dates. For example, for October 22nd there are narrated newsreels of the opening of the Frank Lloyd Wright-designed Guggenheim Museum in New York City (1959) and the 1964 Presidential candidates Barry Goldwater and Lyndon Baines Johnson. You can find videos on Amelia Earhart and "Two Days in October" that juxtaposes a day (Oct. 17, 1967) in the Vietnam War and a day (Oct. 18, 1967) at a non-violent protest in Madison, WI.
Use it while you can!