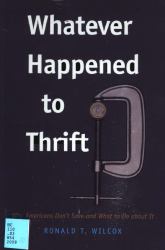 Whatever Happened to Thrift?:
Why Americans Don't Save and What to Do About It
HC110 .S3 W54 2008
New Book Island, 2nd floor
You hear about it all the time – make sure you're saving money, make sure you put enough money away for retirement. It turns out that we as a country aren't doing a very good job about it.
Wilcox, professor at the University of Virginia, actually thinks that we're downright awful at it. Dr. Wilcox contends that although personal savings may only seem to affect you as an individual, it also has effects on society and the economy. The author takes a hard look at saving habits (of lack thereof) of Americans and their financial literacy, painting a grim picture of the future. Of course, he doesn't just tell us we have a problem and end it there. Wilcox offers solutions from the top down, starting with government policies and coming down to personal practices. Overall, the book provides real, hard-hitting insight to a real issue.