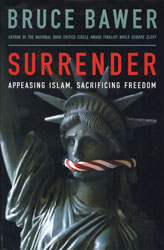 Surrender:
Appeasing Islam, Sacrificing Freedom
By Bruce Bawer
BP171 .B35 2009
New Book Island, 2nd floor
With the eight-year anniversary of the 11 September terrorist attacks just the other day, this book naturally jumped out at me when browsing the shelves.
Bawer, a highly-respected cultural critic, looks at the effects on human rights not by former presidential administration, but by Muslim extremists. The author posits the idea that the combination of fear of radical Islam and political and social correctness threatens to silence the freedoms of speech and press. He points out that individuals that accommodate even the most illiberal aspects of the restrictive religion are helping further their cause. This book is an eye-opening account to the potential harm done to individual rights in the future.
The author's 2006 book, While Europe Slept, a National Book Critics Circle Award finalist, is available in the Main Collection, 3rd floor, at call number D1056.2 .M87 B39 2006.