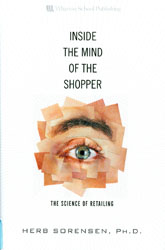 Inside the Mind of the Shopper:
The Science of Retailing
By Herb Sorensen
HF5429 .S5937 2009
New Book Island, 2nd floor
Shopping. Even in a recession, it's sometimes impossible to pass up a good deal. Or when you go to the grocery store on an empty stomach – now that's a dangerous idea. I always end up with way too much junk food and not enough of the good stuff. Although this week's featured title doesn't tackle the question of the eyes being bigger than your stomach and its impact on purchasing habits, it will make you look at your local supermarket in a whole new way.
Sorensen, widely recognized as the foremost retail consultant, offers scientific insights into the shopping experience with the purpose of improving sales for retailers. Using second-by-second analysis of consumer behavior, the author begins by boldly stating that eighty percent of shopper time is wasted. He then goes on to explain this assertion and others, like the influence of store layout on sales, the big box concept that might not always better, and the placement of products. It's an eye-opening read that make you think the next time you head to the store.