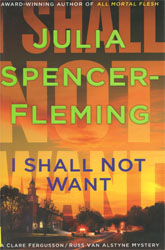 I Shall Not Want
by Julia Spencer-Fleming
MCN Spe
McNaughton Collection, 2nd floor
In case you're wondering if I ever read anything other than series fiction, the answer is yes. In fact, I intended to review a non-series title in this week's post. But, then I found the latest from Julia Spencer-Fleming, I Shall Not Want, and I just had to find out the latest goings-on in Millers Kill, New York. Did the Reverend Clare Fergusson, an Episcopal priest, finally get together with Russ Van Alstyne, the town's chief of police? What kind of crime would they be solving this time? Another murder? How many murders can a small town like Millers Kill have, anyway?
Apparently a lot, because once again someone's been killed and once again, Russ and Clare are on the case. Illegal immigration, family violence, and a "junkyard dog vicious" gang are all part of I Shall Not Want. It is a thrilling read. And those of you who've read the previous book in the series, All Mortal Flesh, know that Russ is now available for romance with Clare. Will their smoldering attraction finally ignite?
I highly recommend starting at the beginning of this series and reading each book in order. But, if you don't want to do that, at least read All Mortal Flesh first, because the ending of that book plays a huge role in I Shall Not Want. Both books are available in the University Library's McNaughton Collection under the call number SPE. All other titles in the series are available at the Whitewater Public Library.