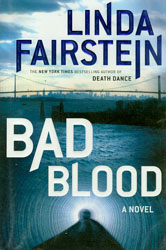 Bad Blood
by Linda Fairstein
MCN Fai
McNaughton Collection, 2nd floor
Last time I introduced you to Eve Dallas, a feisty police lieutenant from New York City, circa 2058. Now meet Alexandra (aka Alex) Cooper, Assistant District Attorney in charge of the Sex Crimes Unit of the Manhattan District Attorney's Office. She works closely with New York City detectives Mike Chapman and Mercer Wallace to solve any murders that come their way. In Bad Blood, Alex is prosecuting Brendan Quillian for the strangulation death of his wife, Amanda. Unfortunately, Alex's case is not very strong, but an explosion in an underground water tunnel leads to an old unsolved crime of which Quillian was also accused, which might bolster her case. Family skeletons and a courtroom shocker are thrown in for good measure. And of course, a possible new love interest for Alex.
Linda Fairstein, former chief prosecutor in the Manhattan District Attorney's Office Sex Crimes Unit, has interesting characters in Alex, Mike, and Mercer, and a neverending source of plotlines in their respective jobs. But, her dialogue is often a bit stilted, and the faint "will they or won't they" romantic undertone between Alex and Mike doesn't add much to the series, now nine books long. You might ask why I've read all nine, and honestly, I don't know. Maybe because most of the action where I live shuts down by 6 p.m. and I need something to do.
Come by the University Library and check out Bad Blood. Let me know what you think. In my opinion? A pleasant way to spend an evening, but you won't have trouble putting it down when it's time to go to bed.