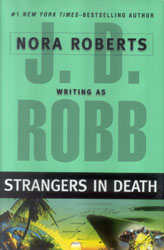 Strangers in Death
by J.D. Robb
MCN Rob
McNaughton Collection, 2nd floor
For some fun, "light," non-mind-expanding summer reading, try a book from what I call the "death series" by J.D. Robb, aka Nora Roberts. The series starts with Naked in Death, and many, many books later, the latest is Strangers in Death. (Mind you, I got this information from Nora's website, as I long ago gave up trying to remember which book follows which.) The plot line seldom varies: set in the late 2050's, Lieutenant Eve Dallas and her trusty sidekick, Peabody, solve horrible murders with the help of Eve's fabulously rich and unbelievably handsome hubby, Roarke. A cast of other regulars, such as the eccentric e-detective McNab, and the wild and colorful singer, Mavis, appear in each book. The plots are similar enough that I can't keep the books straight, but little thought is required to digest the titles, and Eve is a feisty, take-no-prisoners (pardon the pun) dame. And for the romance-minded among you, there are at least two or three steamy love scenes in each book—this is Nora Roberts, after all.
So stop by the University Library and pick up Born in Death, Innocent in Death, Creation in Death, and/or Strangers in Death, all in the McNaughton Leisure Collection under the call number Rob. You're guaranteed a good murder mystery, a relaxing time, and you probably won't learn a blessed thing. Perfect for summer reading.