This past weekend, the Athletic Hall of Fame at UW-Whitewater inducted ten new members who have all played an integral role in developing Warhawk Athletics into its current force. Among those new inductees was Derek Stanley, a two-sport star for the football team from 2003 to 2007 and the track and field teams from 2004 until 2008.
Stanley, a Verona, Wisconsin native, played running back in high school but started his Warhawk career as a defensive back and kick returner, for which he achieved All-American honors as a freshman.[1] In addition to Stanley's early success on the football field, he would also achieve two first-team All-American awards in track and field in the long jump and triple jump.[2] Stanley proved himself a superior track athlete and considered leaving UW-Whitewater to play track at Division I, UW-Madison. Stanley ultimately chose to stay at Whitewater, and his commitment to the Warhawks paid off.[3]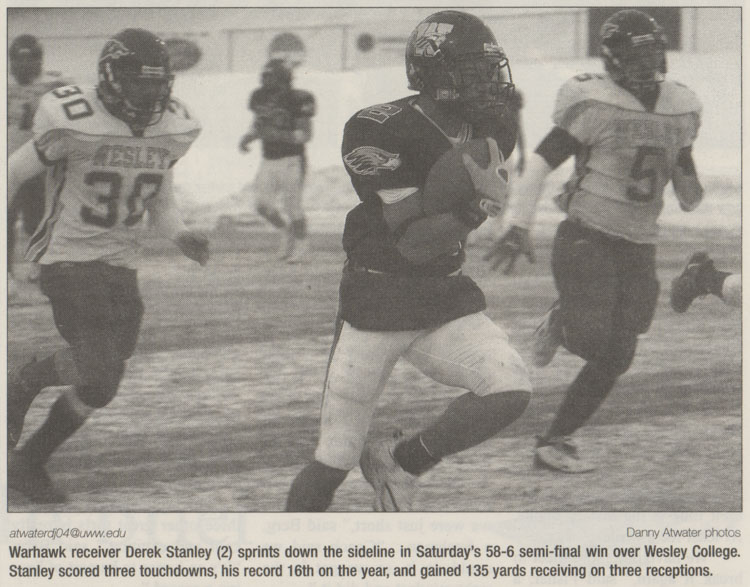 Stanley built his legacy as a wide receiver for the Warhawks. During his career at UW, Stanley is currently third all-time in receiving yards with 2,621 yards, second all-time in receiving touchdowns with 35, and fifth in yards per catch with an average of 20.16 yards per catch.[4] He was known for his speed, athleticism, and versatility.[5] After Stanley's stellar performance in the NCAA Division III National Championship, where he received seven passes for 99 yards, he received much attention from the National Football League (NFL) scouts.[6] Stanley eventually met with a representative from every NFL team. The St. Louis Rams drafted Stanley with the 249th pick in the 2007 National Football League Draft.[7] This achievement would make him the first Warhawk drafted into the NFL.