The Library will have extended hours for exams (and free coffee when the Food for Thought Cafe is closed):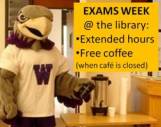 Sat. May 10: 9am-10pm
Sun. May 11: 9am-2am
Mon.-Thurs. May 12-15: 6am-2am
Fri. May 16: 6am-10pm
Sat. May 17: 9am-10pm
Sun. May 18: 9am-midnight
Mon. May 19: 7:30am-midnight
Tues. May 20: 7:30am-4:30pm
Good luck everyone!