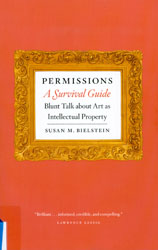 Permissions, A Survival Guide:
Blunt Talk About Art As Intellectual Property
By Susan Bielstein
KF3050 .B54 2006
New Book Island, 2nd floor
I love pretty pictures when flipping through the pages of a magazine or a book. Have you ever wondered about how authors and/or publishers get those images? They may have gone to great lengths to receive one thing for those photos, illustrations, graphics, etc.: permission (and maybe some money too). The digital age has made things both easier and more complicated for this task, and this week's feature title spells it all out.
Bielstein, executive editor for art, architecture, classical studies and film at the University of Chicago Press, channels her years of experience to decode the complex world of artistic intellectual property. In the publishing industry, one must learn the ins and outs of copyright, fair use, reproduction rights and more to successfully avoid legal dramas that could bankrupt you. The author guides you on what goes into providing visual interest for readers in print and electronic media. While the intricacies of copyright law may leave you scratching your head, Bielstein presents the topic in a readable and accessible fashion. The final chapter also breaks down just how much money was spent to reproduce the images in the book. If you're looking for insight into the often-confusing process of image reproduction, this book's for you.