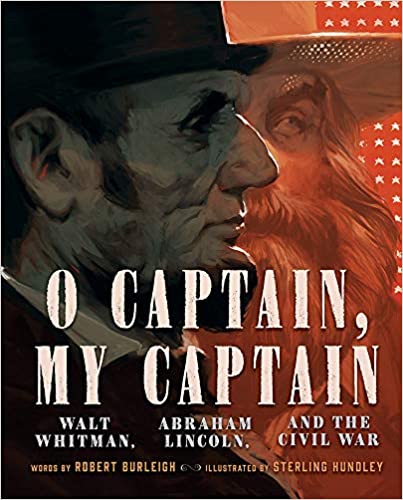 The best historical children's books blend the instructive facts and the imaginative story so well that the reader can scarcely tell where one ends and the other begins. This book fits the bill. I didn't know much before reading this title about the overlapping lives of Walt Whitman and Abraham Lincoln, beyond that they were contemporaries. This book creates a factual story about their time in Washington, D.C. during 1861-1865, and while they never met in person, it is thought that their paths overlapped at times in the city and Whitman witnessed some of Lincoln's public appearances.
After his brother was injured in a battle, Whitman visited a Union hospital and felt driven by what he saw there to continue to serve the ill and wounded soldiers, to ease their suffering in whatever small ways he could, and to bear witness to the deaths of so many of them by writing letters home to the families.
We don't know for sure if the two men ever interacted directly, but from some of Whitman's letters and his later poems "O Captain, my Captain" and "When lilacs last in the dooryard bloom'd," we can see how strongly he was influenced by Lincoln and his strong leadership through that time of trial. While some of the book is therefore speculation or narrative dramatization, the story still feels very true to life, and the extensive backmatter and notes make it easy for an interested historian to study the facts in more depth.
If you'd like a little poetry to brighten your day, here's a dramatic reading of the title poem on YouTube.
O Captain, My Captain: Walt Whitman, Abraham Lincoln, and the Civil War
by Robert Burleigh, illus. by Sterling Hundley
New Arrivals, 2nd Floor
920 Bur