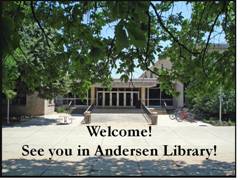 Welcome (back) to UW-Whitewater and Andersen Library!
Andersen Library is open Monday-Tuesday, August 31-September 1 from 8 a.m.-4:30 p.m. Fall Semester hours start on Wednesday, September 2:
Mon.-Thurs.: 7:30 a.m.-midnight
Fri.: 7:30 a.m.-6 p.m.
Sat.: 11 a.m.-4 p.m.
Sun.: 1 p.m.-midnight
Exception: Labor Day, Monday Sept. 7: Closed
Please note that measures are in place to help us all be as safe as possible. These measures include the wearing of face masks by everyone in the library; cleaning supply stations on each floor (please use wipes for keyboards and mice); shields at service desks; and spacing of tables, seating and computers to maintain social distancing, including reduced capacity in study rooms. Please use the signs on tables and computers to indicate that you have used them, because this alerts staff that they need sanitizing. There will be regular cleaning of these spaces by staff, but you may use materials from cleaning stations to clean a space for yourself. We also urge you to wash your hands thoroughly or use hand sanitizer. There is additional information on the Library's COVID-19 Updates page and the campus Warhawks Return page.
We are looking forward to helping you succeed this year!
Please ask a librarian (email, chat, phone 262.472.1032, or visit the Reference Desk) for assistance.