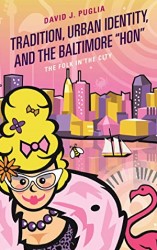 I was surprised to see this book the other day, because I'd just had a conversation with my brother about a woman in Baltimore who trademarked the word "hon." I simply didn't believe that it was possible to trademark a term I've heard people utter hundreds of times, so had to look into it. According to UpCounsel.com*, the law allows trademarking of goods and services, but not trademarking "generic terms, phrases, or the like." Hon would seem to fit that and yet the woman was able to trademark it. In my world, the term comes mostly, but not exclusively, from the mouths of southerners and people in service industries. I always thought it was just a nicety, little did I know hearing the word hon is the next best thing to being in Baltimore.
Baltimoreans/Baltimoreons (take your pick) have a long standing reputation for including "hon" in their greetings. Although it has been in use much longer, over the last 30 years or so the "hon" in local Baltimore dialect has been the focal point of a local controversy. There have been protests and boycotts over the word and even legislative action. The to-do encompases Denise Whiting's trademark of the term in 1992, through citywide efforts to construct local tradition, and on to the future. Here you will find the story of local Baltimore culture, but also see how it reflects on local culture around the United States.
Lest you think "hon" is innocuous, it symbolizes divisions of race, class, gender, and belonging, all of which are discussed in this book. According to this NPR 4-minute listen, "the Hon" is also a person, "that beehived, cat's-eye-glasses-wearing, working-class woman of the late 1950s and early '60s." You can probably just imagine, but if not, check out this image from Honfest 2018.
Tradition, Urban Identity, and the Baltimore "Hon:" The Folk in the City
by David J. Puglia
New Arrivals, 2nd Floor
F189.B15 P84 2018