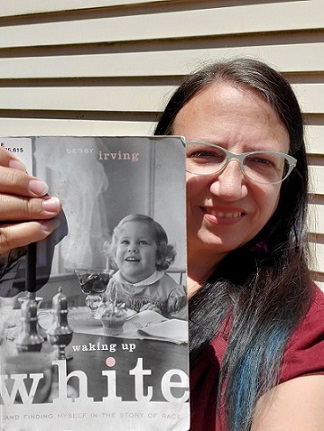 Warhawk Recommender: Martha Stephenson, Reference & Instruction Librarian

I like this book because Irving writes candidly about her relationship with race from childhood to the present and isn't preachy about it. A significant portion of the book is stories from her early non-relationship with race to a longer period of racial ignorance, paired with her "woke" understanding of the systemic and pervasive racism that has been inherent in her life. For a long time, she doesn't see herself as white living in White Land, she sees herself as "normal." She doesn't see people of color, but when she eventually does she still doesn't SEE them. There's a disconnect.
A major turning point in the book is when she attends a Racial and Cultural Identity class. This leads to many changes in her life, including a "robin hood syndrome" phase, which she must overcome. Her self-understanding and improvement is the narrative thread that holds this book together. She shows us how white is a race and that becoming less racist and more antiracist was possible for her. We can follow that path too. I believe the Warhawk community will benefit from this book by thinking about whiteness, the role that racism and antiracism have played in their lives, and then doing something about it. You do not have to be white to learn from this book.
Waking Up White, and Finding Myself in the Story of Race
by Debby Irving
Main Collection, 3rd Floor
E185.615 .I778 2014