It's that time of the week again… New Stuff Tuesday! This week it's all about people and our social nature.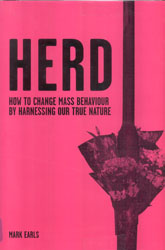 Herd:
How to Change Mass Behaviour by Harnessing Our True Nature
Mark Earls
HF5415.123 .E37 2007
New Book Island, 2nd floor
This intriguing book, written by a leading thinker in consumer behavior, covers a whole lot of ground. Although this book centers around the principle of mass behavior and its effects on advertising and marketing, it quickly moves from the idea of the group versus individual mentality to the keys of "herd marketing," such as interaction, influence, and letting go. What's great about the book is the use of real-world examples as illustrations, like urinal etiquette to describe unspoken rules about choosing the correct point of relief, if you will. Bet you didn't see that coming, did you?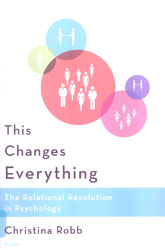 This Changes Everything:
The Relational Revolution in Psychology
Christina Robb
HM1106 .R63 2007
New Book Island, 2nd floor
Christina Robb, former Boston Globe reporter & Pultizer Prize winner, delves into relational psychology and the women who causes this fundamental shift in thinking. This pioneering group — Carol Gilligan, Jean Baker Miller & Judith Lewis Herman — asserted that relationships serve ad the foundation for our psychological wellbeing, not the Freudain camp's Sense of Self. This provides the "missing link between feminist politics and female reality." (Jennifer Baumgardner). So did it really change everything? Find out for yourself.