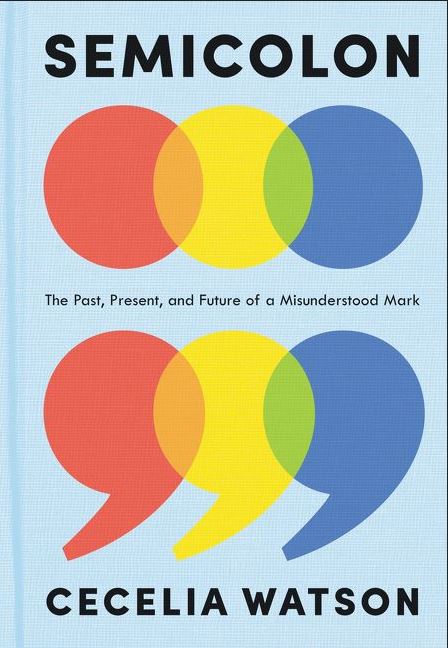 Semicolon: The Past, Present, and Future of a Misunderstood Mark
by Cecelia Watson
New Arrivals Island, 2nd Floor
PE1450 .W38 2019
The semicolon?! Perhaps you are thinking it was a slow day at the New Arrivals Island. That the selections ranged from dry as dust to impossibly insipid, causing me to pause at the spot of brightness on the cover of this book. But no, the unassuming semi;colon was actually wedged in between some promising fare: The Lady from the Black Lagoon: Hollywood Monsters and the Lost Legacy of Milicent Patrick and Sitcommentary: Television Comedies that Changed America.
But I figured these flashy titles would actually get some facetime with readers, while a biography of the lowly semi;colon might have a harder time attracting an audience. So here it is – in all its glory: the semi;colon.
On page 2 I learned that the semi;colon was invented by the Italians in the fifteenth century. Since they invented spaghetti and gelato, too, I think we're onto something. Novelist Kurt Vonnegut, on the other hand, disparaged the semi;colon and its users in most frank language that I dare not repeat (that's on pp. 1-2 if you want to read the juicy part).
But this amusing little book is really about bigger issues of how grammar and punctuation help us communicate. And as I browsed through it, I found a number of pencil marks on what I thought would be its pristine pages. So it has already shared its life with a reader; my choice is vindicated!