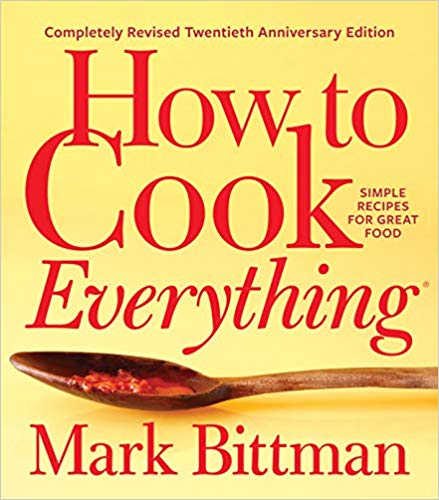 How to Cook Everything: Completely Revised Twentieth Anniversary Edition
by Mark Bittman
New Arrivals Island, 2nd Floor
TX714 .B57316 2019
I know, I know. I've said it often myself — that with the advent of Food.com, Allrecipes, and the gazillion other recipe-sharing sites out there, I have absolutely no need to look at a print cookbook ever again. Yet I still am drawn to them. At over 900 pages, this tome reminds me of a modern Betty Crocker or Fannie Farmer cookbook, destined to become another classic go-to for techniques and recipes alike. Somehow this seems more trustworthy than the 9,000 results on Allrecipes when I look up how to cook a Thanksgiving turkey.
We have both the 1998 version and this new one in our collection, and we don't collect very many cookbooks in an academic library, so apparently it was a standout even in 1998. The author says in his introduction that the biggest change this time around is a bigger focus on "the most important aspect of my cooking philosophy: flexibility." I almost never follow a recipe exactly as it's written, so I think I'd get along with Mr. Bittman.
What lets this book claim the "Everything" in its title is that it provides many basic recipes or techniques (e.g.: cooking dried beans), and then provides additional guidelines: rinsing, storing or freezing beans, add-ins for flavor, and dozens of interesting variations on the following recipes (orange-glazed black beans with bacon, anyone?) It contains an extensive Index — by ingredient or technique, as well as lists such as Essential recipes and All-in-One meals. The table of contents also makes it easy to browse through sections such as Spices, Herbs, Sauces, & Condiments, all the way through to Desserts.
Browse through it today, try a few recipes, and if you're a soon-to-be-graduate about to venture into your own kitchen, maybe even pick up your own copy!