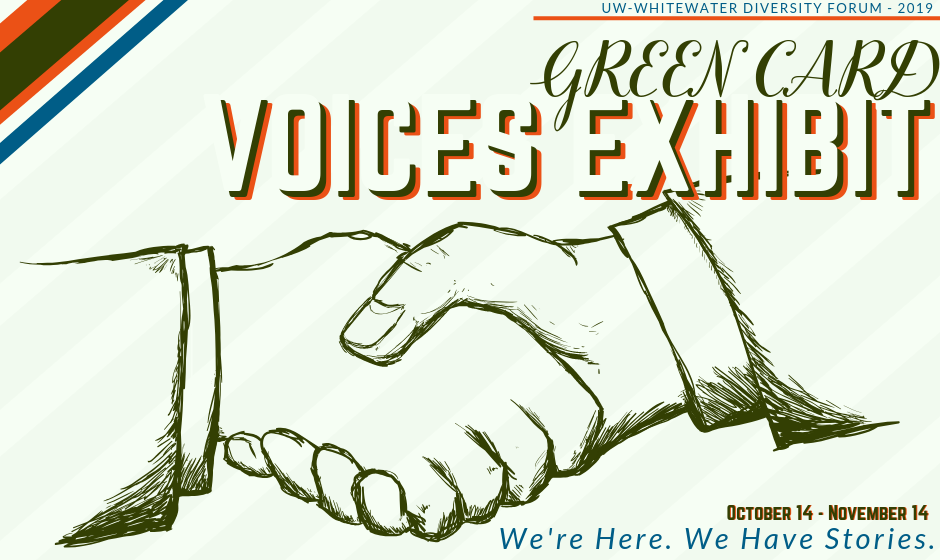 "We're Here. We Have A Story. We Play A Role"
Those three statements are the motivation behind the Green Card Voices initiative. This initiative was created with the aspiration to give current immigrants a voice to share their story and educate others on the immigrant experience in America in a personal and impactful way.
Green Card Voices is a non-profit charitable organization that was founded in 2013. The Mission of Green Card Voices is to share the diverse and personal experiences of America's 40 million immigrants. Today, Green Card Voices continues to be a video-based platform that uses digital storytelling to share individual's immigration stories.
All these individuals have stepped out and are willing to be vulnerable with the general public in hopes bridge the gap between immigrants, non-immigrants, advocates, and adversaries across the country.
From October 14th through the 31st, the Green Card Voices and their Youth traveling exhibit will be at UW-Whitewater's Andersen Library. The exhibit will then travel to UW-Rock County's Lenox Library from November 1st through the 14th. There will be a reception for the Green Card Youth Book which served as the inspiration behind the creation of this specific traveling display.
Students, faculty, staff, and community members of both participating libraries are encouraged to visit the locations and visually experience each person's story by scanning the QR codes on their own personal devices. Each story was thoughtfully documented in an authentic and unbiased way by Green Card Voices to honor immigrant's courage in sharing their experience.
Andersen Library is proud to welcome Green Card Voices to campus and more than excited to recognize the contributions that immigrants have and continue to make to so many areas of American life.
We encourage you to take a moment out of your day and come visit the Green Card Voices Youth exhibit. Support those around you and listen to someone who deserves to be heard.