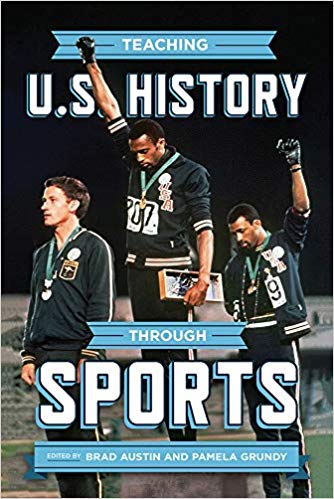 Teaching U.S. History Through Sports
edited by Brad Austin and Pamela Grundy
New Arrivals Island, 2nd Floor
GV583 .T43 2019
This book sets up a way of related history through our popular past time of sports. In mind the audience of this book is classroom teachers. While sports are often viewed in a very 1 dimensional way of who wins or loses according to a set of rules, this book shows how actions by athletes, coaches, and fans have pushed forward the country. Our nation's games can highlight the changes of our social fabric. While not always positive in result, the book also highlights the tremendous social costs that athletes pay when they speak up for their beliefs and are rejected or condemned. An example of this is shown on the cover. In 1968 at the Olympic Games in Mexico City, Tommie Smith and John Carlos received death threats when they silently raised their fists in protests of civil rights in the United States. This book will highlight important historical events through sports, and guide teachers how to navigate the teaching of social change.
For more on Smith's, check out his autobigography from our main collection.