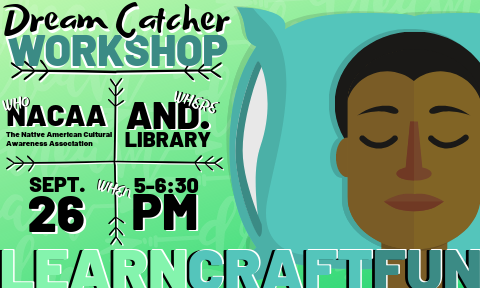 As you all know, Andersen Library likes to get crafty. All throughout the year we facilitate various workshops that encourage students to share their artistic talents while also providing them a space to de-stress – even if just for a short time.
While they're always fun, Andersen tries to make our craft workshops mean more than just glitter and popsicle sticks.
Last Thursday on September 26th from 5:00-6:30 pm, Andersen Library hosted the Native American Cultural Awareness Association (NACAA) for their Dream Catcher Workshop. Titled "Finding Beauty Within", the workshop was led by Karen Hartman of the Brothertown Nation. Inspired by her novel "Dream Catcher: The Legend, the Lady, the Woman", Hartman led 38 students through a brief history on the importance and cultural relevance of the dream catcher to Native Americans. Students were then taught how to make their very own dream catcher which they got to take home!
We all know how important good sleep is which is why each dream catcher was uniquely created by every student to catch their bad dreams and allow the good ones to pass through. Here at Andersen we hope that students enjoyed this workshop and learned something new about a culture that they may not be completely familiar with.
Thank you to the NACAA for sharing their wisdom, Karen Hartman for teaching her beautiful techniques, and to Martha Stephenson for organizing the event.
Sweet dreams Warhawks!