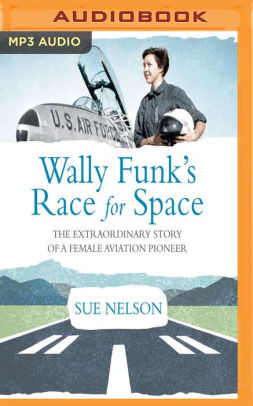 Wally Funk's Race for Space :
The Extraordinary Story of a Female Aviation Pioneer
by Sue Nelson
TL789.85.F86 N45 2018
New Arrivals Island, 2nd floor
It was easy to get swept away by the 50th anniversary of the Apollo 11 moon landing this summer. From Public Television productions to radio news stories and music playlists, there was plenty of celebration to catch. It was no wonder this audiobook seemed perfect for this summer's vacation road trip. Wally Funk's Race for Space tells the story of Wally Funk, one of the Mercury 13. These were thirteen women who secretly underwent the same rigorous physiological and psychological testing as the Mercury 7, the seven men selected just a few years earlier by NASA 1959 for Project Mercury, the first human spaceflight program in the United States. Despite a lack of support for women astronaut trainees through the 1960's, Wally Funk continued her pursuit of her dream to pilot in space. She was the first female air safety investigator for the National Transportation Safety Board, the first female civilian flight instructor at Fort Sill, Oklahoma, and the first female Federal Aviation Agency inspector.
Borrow the print version of this title through UW Request, or check out Andersen Library's copy of The Mercury 13 : the untold story of thirteen American women and the dream of space flight, by Martha Ackmann.