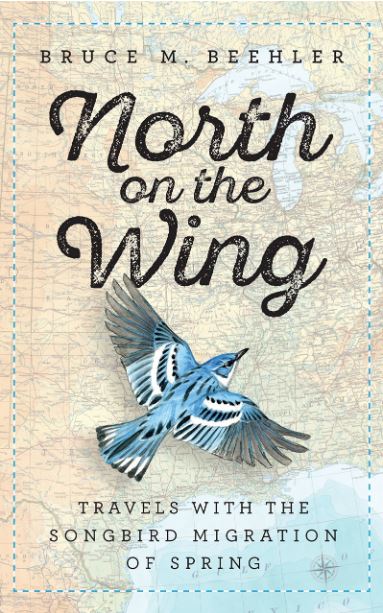 North on the Wing:
Travels With the Songbird Migration of Spring
by Bruce M. Beehler
QL698.9 .B44 2018
New Arrivals Island, 2nd floor
Just last week I was sitting in a meeting in the Library Conference Room when something caught my eye. A flock of white birds was passing by, just outside the picture windows. Were they seagulls? Snow geese, maybe? As it turned out, they were white pelicans. A whole flock, just circling above the campus, drafting gracefully on the warm thermal updrafts on a sunny spring morning. The meeting wrapped up and several of us kept watching the flock as it slowly circled its way across campus and out of view.
Okay, okay, I know pelicans aren't songbirds, which is the subject of this book. But they do migrate north each year — and, heck — I needed to find a way to work them into this blog entry. Smithsonian ornithologist and naturalist Bruce Beehler writes a charming travelogue of his hundred-day journey up the Mississippi and into Canada to follow the migration route of a variety of warblers species. Beehler's adventures on foot and via bike, car, and canoe were inspired in part by the trek of another naturalist, Edwin Way Teale, who made a similar migration journey with his wife in 1947.
The UW System Libraries have additional titles by Bruce M. Beehler if you'd like to read more of his work.