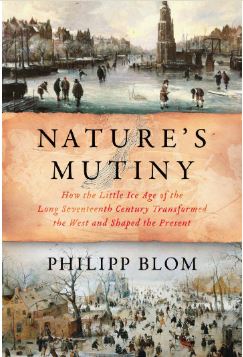 Nature's Mutiny: How the Little Ice Age of the Long Seventeenth Century Transformed the West and Shaped the Present
by Philipp Blom
QC903.2 .E85 B5613 2019
New Arrivals Island, 2nd Floor
Perhaps it's unkind to remind you of ice and cold when spring is finally in the air. But if you think we've had a miserable winter this year, you can console yourself with the thought that it was probably pretty mild compared to the Little Ice Age of the Seventeenth Century.
The long and bitter winters had a profound effect on Europe and other parts of the world. The beastly cold precipitated a shift from rural areas to the growing urban centers where peasants could find work — and food. Upheaval seemed to be everywhere during this time: the effects of the Protestant Reformation were still reverberating through much of Europe and capitalism was on the rise. A spectacular comet in 1680 had everyone talking — and speculating about what it might mean — an omen of divine judgment? (pp. 185ff).
The author credits the Little Ice Age with bringing about the societal shifts that would eventually become the Enlightenment (p. 23). Perhaps something equally interesting lies in store for us?
Andersen Library has other books on the Little Ice Age, too. So curl up in a warm, sunny spot and learn all about the frigid Seventeenth Century.