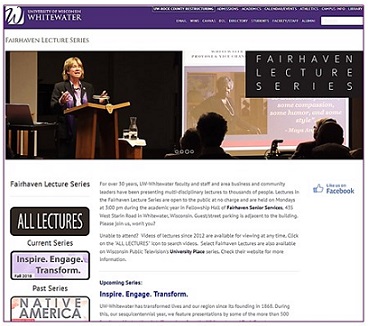 Inspire – Engage – Transform is the theme of the Fall 2018 Fairhaven Lecture Series, offered on Mondays at 3pm in Fellowship Hall (Fairhaven Retirement Community, 435 W Starin Rd, Whitewater). These lectures are free and open to the public! But if you can't attend in person, videos of lectures since 2012 are posted online.
The University of Wisconsin-Whitewater has been affecting the lives and futures of its students for 150 years. The lectures this semester will highlight some of the inspiring ideas campus experts share with their students.
Andersen Library can help if you'd like to learn more about lecture topics! For example, for the Oct. 15th topic, search Library databases to find the book Young adult literature: From romance to realism (UWW students and staff may borrow from other UW campus libraries by using the free UW Request service; preview some text via Google Books), and the article "The good, the bad, and the ugly: A qualitative study of how young adult fiction affects identity construction" (Atlantic Journal of Communication, 2015, vol.23:no.3, pp.139–158. https://doi.org/10.1080/15456870.2015.1013104). Please ask a librarian (email, chat, phone 262.472.1032, or visit the Reference Desk) for assistance with finding additional materials.
Fairhaven Lecture Series October-November schedule:
Oct. 1: Generations United: Connecting and Involving Generations— Is That a Good Idea? (Simone DeVore, Professor, Special Education)
Oct. 8: Forgotten Wisconsin Authors and the Need to Revive Them (John Pruitt, Associate Professor, English)
Oct. 15: Love and Literature: What Young Adult Books Teach About Gender and Romance (Tricia Clasen, Professor, Communications–Theatre Arts)
Oct. 22: How the Boy Next Door Becomes a Latin King: A Christian Boy's Unlikely Experience (Elizabeth King, Associate Professor, Educational Foundations)
Oct. 29: Learning Communities: More Than Textbooks (Ozalle Toms, Associate Professor, Special Education)
Nov. 5: Education for Sustainability in the Public Schools of the Galápagos Islands (Susan Huss-Lederman, Professor, Languages and Literatures.)
Nov. 11: Splendor Without Diminishment and the Wonders of Nature (Bob McCallister, Professor, Geography–Geology)
Nov. 19: The Diversity and Inclusion Imperative: Strategies for Student Success (LaVar Charleston, Assistant Vice Chancellor, Student Diversity, Engagement and Success)