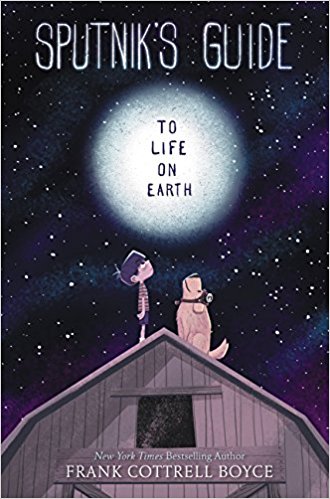 Sputnik's Guide to Life on Earth
by Frank Cottrell Boyce
F Cot
Curriculum Collection, Fiction, 2nd floor
Meet Prez, a boy who finds himself in a foster home with The Blythes, a big, warm, rambunctious family who live on a small farm. Meet Sputnik, the alien who looks like a dog to everyone else, but who looks like a wee man in a kilt, a leather pilot's helmet, and flying goggles to Prez. Sputnik's mission is to create a list of 10 things that will make Earth worth saving from pan-galactic decluttering. As if that one mission were not enough, Prez enlists Sputnik's help to find his grandfather who has been moved to a nursing home, as Granddad's "rememberings" have gone missing.
This middle-grades adventure is replete with runaway mobility scooters, a bit of space/time travel, and a boy with gentle care for a grandparent with dementia.