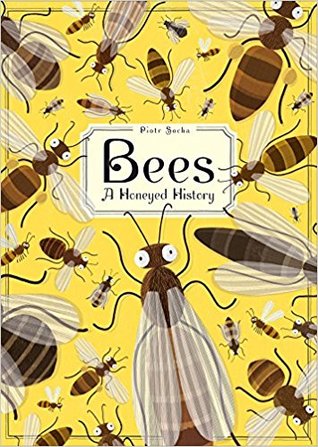 Bees: A Honeyed History
by Piotr Socha; text by Wojciech Grajkowski
E Soc
Curriculum Collection, Easy Books, 2nd floor
Don't let the stunned bee expressions mislead; this oversized picture book provides scientifically sound descriptions of beehavior supported by engaging scientific illustration in Socha's whimsical style. Two-page spreads each illustrate an aspect of humans' relationship with bees, from Apis' appearance in cave paintings in Southern Spain, to beekeeping, to the transportation of bees by truck to California almond groves.
If this title delights, then Katie Scott's scientific illustrations in Botanicum and Animalium are also sure to please.
Find more children's books to support literacy and science education in the Andersen Library's Curriculum Collection. Start with those that are recognized by the National Science Teachers Association as Outstanding Science Trade Books. These titles are regularly added to the Curriculum Collection. Learn more about how to find these and more award books on our shelves using our Children's and Young Adult Literature/Award Books LibGuide.