Sam Quinones will talk about "Dreamland: The True Tale of America's Opiate Epidemic" at 7pm on Mon., Mar. 12, in the Young Auditorium. It's part of the lecture series sponsored by the College of Letters and Sciences.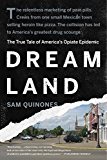 Quinones, freelance journalist and former Los Angeles Times reporter, is the author of three books. Dreamland: The true tale of America's opiate epidemic, was the 2015 National Book Critics Circle Award Winner for general nonfiction and a finalist for the L.A. Times Book Prize. Andersen Library has a copy in the 3rd-floor Main Collection at HV5840.M4 Q56 2016, and other UW campus libraries have copies as well (preview text via Google Books).
You can read his bio from his website. Quinones spent 10 years with the LA Times, received a 2008 Maria Moors Cabot award from the Columbia Journalism School, and has also published in National Geographic, the New York Times, Los Angeles Magazine, and other publications.
You can learn more with Andersen Library resources, including government documents such as Misuse and abuse of opioids in Wisconsin (online) and Congressional committee hearings The U.S. Homeland Security role in the Mexican war against drug cartels (online or in print in the 2nd-floor U.S. Documents collection, Y 4.H 75:112-14) and America's heroin and opioid abuse epidemic (online); and articles such as "The North American opioid epidemic: Current challenges and a call for treatment as prevention" (Harm Reduction Journal, 2017, pp.141-6. doi:10.1186/s12954-017-0135-4).
Please ask a librarian (choose chat or email, phone 262-472-1032, or visit the Reference Desk) if you'd like assistance with finding materials.