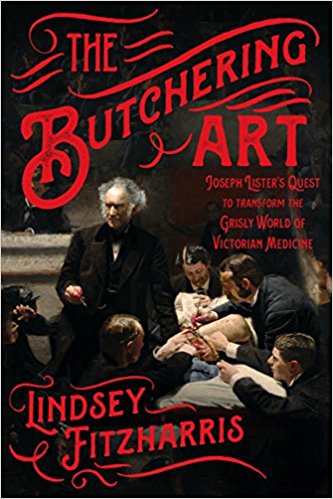 The Butchering Art: Joseph Lister's quest to transform the grisly world of Victorian medicine
by Lindsay Fitzharris
RD27.35.L57 F58 2017
New Arrivals, 2nd floor
Read this to discover the only known case of a surgery with a confirmed 300% fatality rate. Or to learn about how our hero became "the only man to stick a knife in the Queen!" (and lived to tell about it), or to discover the origins of Listerine and the Carbolic Smoke Ball.
Considering the slightly "gross" topic, this is a surprisingly entertaining and dramatic telling of a very human story — and by that I mean both its considerable impact on us modern humans today, and by its demonstration of the universal human ambition, pride, stubbornness, and vanity that often tries to stifle any great endeavors towards new knowledge. Lister's promotion of germ theory as the cause for the infections that killed so many thousands of people before about 1870 was met with derision by many, but the man (and the many scientific and medical personnel who contributed to the cause, including Louis Pasteur and Queen Victoria herself) eventually prevailed through a slow process of education and demonstration. If you've ever had a routine tooth extraction or broken bone setting and never fretted about dying of erysipelas or septicemia, you have Joseph Lister to thank.