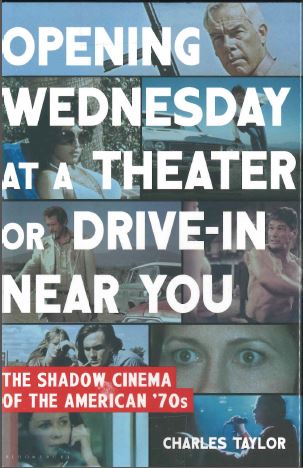 Opening Wednesday at a Theater or Drive-in Near You:
The Shadow Cinema of the American '70s
by Charles Taylor
PN1995.9.B2 T39 2017
New Arrivals Island, 2nd floor
I love B movies, particularly the science fiction and fantasy varieties. Why else would I have watched a Gor double-header (Gor and Outlaw of Gor) this weekend? Taylor understands my passion and brings an American era into focus by revealing the long lost secrets hidden in these films.
Music critic and college instructor Taylor focuses on 15 films from the 1970s, including such classics as Foxy Brown and E Pluribus Loonum: Citizens Band. These are movies that mostly began their public lives in the drive-ins and theaters where Hollywood blockbusters end(ed) theirs. Movies that would never be nominated for an Oscar, let along win one. These movies are gritty and honest, often with a good dose of pessimism, which is not to be confused with the "easy cynicism" of the 1970s that came in the wake of the Vietnam War and Watergate. He credits the longevity of these movies to their opposition to the "juvenile state" of American movies that was heralded by Star Wars in 1977. Modern movies, Taylor says, are designed around the tastes of the adolescent male fan, whereas these B movies from the '70s are typically not.
This book is a fun and informative read. Be prepared to add a few titles to your Netflix queue.