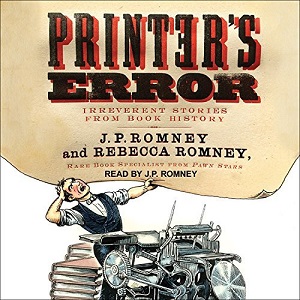 Printer's Error: Irreverent Stories from Book History
by Rebecca & J.P. Romney, Read by J.P. Romney
Z4 .R665 2017
New Arrivals Island, 2nd floor
Are you a bookaneer? A book sneak? A book weevil? A book bum? If you purchase used or cheaply bound books or if you liberally lend books, then you, yes, you are guilty of libricide – contributing to the impending demise of the United States publishing industry! Such is the message of the marketing campaign designed by Edward Bernays in 1930 on behalf of the Book Publishers Research Institute in order to combat such odious practices of thrifty readers.
This is one of the many curious episodes that authors Rebecca and J. P. Romney have selected for Printer's Error, an entertaining history of print as told through some of the more absurd moments in the lives of authors, artists, publishers, and printers.
The Romneys muse over the irony presented by one of Gutenberg's contemporaries, the Benedictine monk Trithemius' who authored the work In Praise of Scribes – printed on the printing press, of which he was no fan. Then there was craftsman and artist Cobden Sanderson's attempt to protect his beloved Doves typeface from the mechanized printing presses of London by dumping it in the Thames by dark of night. And where would the colonies have been without Benjamin Franklin's forays into printing presses, paper mills, and delivery of news through the early postal service?
The Romneys' conversational writing style is unexpected for nonfiction, but translates well to audio format. It is no surprise that author J. P. Romney performs his own lively, engaging narration, given his work on History channel's Pawn Stars. Nonetheless, there are a few points at which literary choices are chafing enough to momentarily distract from the overall entertaining style and content. For example, they express their frustration with Gutenberg's elusive connection to his printing press by saying, "All this could have been avoided if Gutenberg had just printed his motherfucking name on his motherfucking books!"
If a tamer presentation of the history of printing is preferred, search Printing–history in Research@UWW or search Books–history
If the story of the curious incident of the dumped typeface at midnight intrigues, try Type: The Secret History of Letters by Simon Loxley
Learn more about Edward Bernays' publicity campaign for the Book Publishers Research Institute the Book History journal article, "Book Propaganda: Edward L. Bernays's 1930 Campaign Against Dollar Books."