Emily Núñez Cavness will talk about "Bridging the Civil-Military Divide" on Mon., Oct. 30, 2017 at 7 pm in the Irvin L. Young Auditorium. It's part of the Contemporary Issues Lecture Series sponsored by the College of Letters and Sciences!
"Emily Núñez Cavness is the CEO and Co-Founder of Sword & Plough, a veteran-owned, socially conscious company that repurposes military surplus, works with U.S. manufacturers that are owned or partially operated by veterans, and donates 10% of profits to veteran initiatives. Cavness graduated from Airborne School, served in the 4th Engineer Battalion, deployed to Afghanistan, was the first female intelligence officer to serve in 10th Special Forces Group, and was one of the first 100 women to try out for the U.S. Army's Ranger Training Assessment course. Business Insider named Sword & Plough one of the Top 20 Most Inspiring Companies of 2014 and Cavness was named a Forbes 30 Under 30 Fellow and White House Champion of Change." (from the lecture series web page)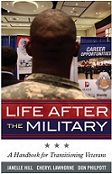 You may be able to learn more about related topics with Andersen Library resources! Possibilities include book or report titles such as Faith-based organizations and veteran reintegration: Enriching the web of support (online via JSTOR or the Rand Corporation), Life after the military: A handbook for transitioning veterans (3rd-floor Main Collection, UB357 .H55 2011; preview text at Google Books), Our army: Soldiers, politics, and American civil-military relations (online via Project MUSE; preview text at Google Books), The citizen-soldier: Moral risk and the modern military (online via Project MUSE or the Brookings Institution); government information including Congressional committee hearings Best practices in veteran hiring (online) and Is transition assistance on track? (online); and the video Service: When women come marching home (2nd-floor Academic DVDs, UB418.W65 S47 2012). Also available are articles such as "Bridging the military—civilian divide" (Yale Review, 2010, vol.98:no.2, pp.1-21) and "Exploring the civilian-military divide and how my role as displaced graduate student turned into a search for self" (Pedagogy, 2016, vol.16:no.3, pp.526-532).
Learn more about the Dept. of Defense (DoD) Transition Assistance Program (TAP) from the DoD online.
If you'd like assistance with finding additional information, please ask a librarian (choose chat or email, phone 262-472-1032, or visit the Reference Desk).
Andersen Library is a federal depository library with federal government documents on a variety of current and relevant issues available to you in various formats (print, DVD/CD-ROM, online). Check out your government at Andersen Library!