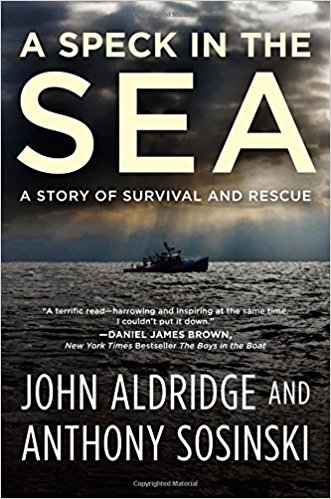 A Speck in the Sea: A Story of Survival and Rescue
By John Aldridge and Anthony Sosinski
HD8039.F65 A3 2017
Browsing Books, 2nd floor
You don't have to be planning on late summer jaunt that involves boating of any sort in big waters, say, in a kayak on Lake Superior or even in an inflatable across Lake Nemahbin, to be drawn into this gripping tale of survival.
A Speck in the Sea is the true story of lobster fisherman John Aldridge who fell overboard the night of July 24, 2013, while his other crew members were asleep below. While the New York Times Magazine article published shortly after the event shares the details from a journalistic standpoint, the book provides the first person accounts from the perspectives of Aldridge, his crew members, family members, and the U.S. Coast Guard service members involved in the search-and-rescue mission.
As with many maritime happenings, from the wreck of the Edmund Fitzgerald to the rescue by the tall ship Denis Sullivan, the story of Aldridge's rescue has been memorialized in song, the lyrics of which are included in the appendix.
Listen to The Tale of Johnny Load performed by the singer songwriter Nancy Atlas:
Continue with a clip of Hooray for the Denis Sullivan by Wisconsin singer songwriter Rick Fitzgerald, as well as Gordon Lightfoot's The Wreck of the Edmund Fitzgerald to round out your nautical listening.
And most of all enjoy your next trip out on the water, don't forget to wear your PFD, and practice safe boating!