Get ready to experience the Great American Eclipse! Free local events:
Make your own eclipse viewer on Thurs, Aug 17, from 3:30-4:30pm at the Irvin L Young Memorial Library (431 W Center St, Whitewater) using materials supplied by the library (while supplies last).
Hear UWW Physics Professor Bob Benjamin talk about what occurs during a total solar eclipse, the frequency of eclipses, and their applications in science at 7pm on Fri, Aug. 18, in Upham Hall 140.
Attend a viewing, hosted by Lecturer Juliana Constantinescu and the UWW Physics Dept, of the partial solar eclipse on Mon, Aug 21, between 11:52am and 2:39pm, at the campus Observatory (on the hill behind Hyer Hall). The partial solar eclipse will reach its maximum at 1:17pm with 84.97% of the sun covered by the moon. Eclipse glasses will be available to share. In order to see the total eclipse, you must travel to a location along the path of totality. (No part of Wisconsin is on the path. Bummer.)
Wherever you are during the eclipse, please remember: Do not look directly at the sun.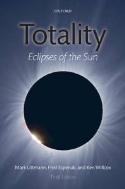 You can learn more about this from NASA's Eclipse 2017 web page. Andersen Library also has resources for learning more, including books such as Eclipse!: The what, where, when, why, and how guide to watching solar and lunar eclipses (3rd-floor Main Collection, QB541 .H35 1997), Mask of the sun: The science, history, and forgotten lore of eclipses (3rd-floor Main Collection, QB541 .D846 2017), and Totality: Eclipses of the sun (online via ProQuest Ebook Central, aka ebrary).
If you'd like assistance with finding additional information, please ask a librarian (choose chat or email, phone 262-472-1032, or visit the Reference Desk).
Andersen Library is a federal and Wisconsin depository library with federal and state government documents on a variety of current and relevant issues available to you in various formats (print, DVD/CD-ROM, online). Check out your government at Andersen Library!