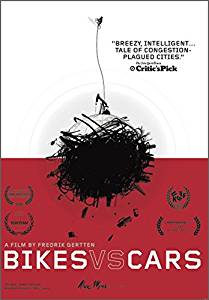 Bikes vs Cars
Written and directed by Fredrik Gertten
Browsing DVD HE 5736 .B55 2016
New Arrivals Island, 2nd floor
One glance at just about any large city anywhere will tell you that cities are built around the automobile. College campuses, on the other hand, often appear to be designed with pedestrians and bicyclists in mind. Although UWW isn't exactly a bicycle mecca, nearly every campus building has bicycle parking available, while residence halls offer covered bike parking and bike lockers.
Bicycle vs Cars is a documentary about the great divide between bicycles and cars when it comes to urban planning. The filmmakers travel around the globe to witness the efforts of bicycle advocates in their mission to make cities bicycle-friendly while clashing with corporate interests whose profits are driven by the automobile culture.
Although Wisconsin is in no danger of jettisoning the automobile, it's nice that even smaller communities like Whitewater are making strides to become cycling-friendly with bicycle lanes and paths sprinkled about town.
Here's an interview with the filmmaker if you're interested in learning more about his bicycle activism.