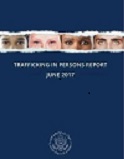 The 2017 Trafficking in Persons Report has been issued, and previous reports since 2001 are available online as well. The website states that
[T]he Trafficking in Persons (TIP) Report is the U.S. Government's principal diplomatic tool to engage foreign governments on human trafficking. It is also the world's most comprehensive resource of governmental anti-human trafficking efforts and reflects the U.S. Government's commitment to global leadership on this key human rights and law enforcement issue.
You can learn more with Andersen Library's resources, including books such as From human trafficking to human rights: Reframing contemporary slavery (ebook online via Project MUSE, summary and preview available from Google Books) and Human trafficking: A global perspective (3rd-floor Main Collection, HQ281 .S63 2010, summary and preview available from Google Books) and articles such as "Human trafficking of children in Illinois: Prevalence and characteristics" (Children and Youth Services Review, 2016, vol.69, pp.127-135, https://doi.org/10.1016/j.childyouth.2016.08.010) and "Assisting victims of human trafficking: Strategies to facilitate identification, exit from trafficking, and the restoration of wellness" (Social Work, 2014, vol.59:no.2, pp.111-118).
Several Federal government agencies provide information online, including the National Institute of Justice, Homeland Security (learn about the Blue Campaign), the Federal Bureau of Investigation, and others. You can easily find government sources online by adding site:.gov to a Google search, e.g., "human trafficking" site:.gov.
If you'd like assistance with finding additional information, please ask a librarian (choose chat or email, phone 262-472-1032, or visit the Reference Desk).
Andersen Library is a federal and Wisconsin depository library with federal and state government documents on a variety of current and relevant issues available to you in various formats (print, DVD/CD-ROM, online). Check out your government at Andersen Library!