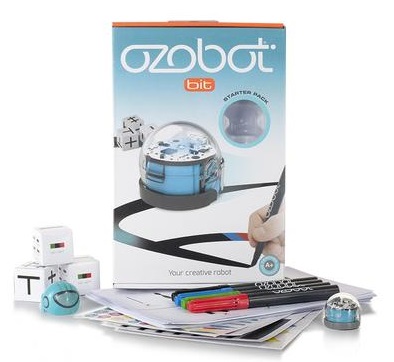 Ozobot Bit Starter Pack
By Evollve, Inc.
TJ211.2.O9 2016
Curriculum Collection, Teaching Tools, 2nd floor
If you have never tried to code before, the Teaching Tools collection at Andersen Library has little robots to help you get started – Ozobot Bits. These robots sense line and color patterns drawn with colored marker, or follow patterns on tablets and other digital screens. This is programming at its most basic.
Find examples of how Ozobot is used in the classroom by visiting the Teacher's Guide on Ozobot's Getting Started page.
To introduce younger children to coding principles, check out OSMO Coding, also located in the Teaching Tools collection on Andersen Library's second floor.
[youtube]https://www.youtube.com/watch?v=m5d4iXGbIGs[/youtube]