Tired of packing a lunch and eating it in Andersen Library while you study?
Take a break! You can enjoy your lunch at Savory Sounds, a series of free lunchtime music concerts at the Birge Fountain in Whitewater (in front of the White Building at 402 W Main St) on Thursdays from 11:30am-12:45pm:
June 29: Main Street Big Band (big band music)
July 6: Bill Hill (jazz)
July 13: Stuart Stotts (children's concert)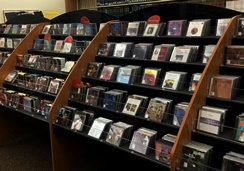 Or, enjoy music with your lunch at the Library any day! Choose something unfamiliar from the Browsing CD collection on 2nd floor. It's got everything from yodeling to opera, along with rock, folk, world music, classical, and more. There also are streaming music databases on the database list like DRAM; Music Online's Jazz Music Library, Garland Encyclopedia of World Music, African American Music Reference; and Naxos.