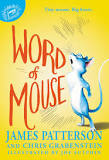 Word of Mouse
Written by James Patterson and Chris Grabenstein; illustrated by Joe Sutphin
F Pat
Curriculum Collection, Fiction, 2nd floor
From Stuart Little to Bernard and Bianca from The Rescuers, these little characters that squeak their way into children's literature teach big lessons. Like many of his literary Mus predecessors, Isaiah's size is outweighed by his intellect, resourcefulness, and heart. He may have been separated from his ninety-nine siblings in a harrowing escape plot gone awry. He may be marginalized by others of his own kind because of his striking blue fur. Nevertheless, he overcomes both tragedy and adversity, and shares the important words and lessons he learns along the way:
"We mice are nocturnal and crepuscular."
"A mouse may run swiftly, but it can never escape its own tale."
"Any plan is bad if it cannot be altered."
But of all the important things he has to share, time and again he repeats the one that speaks to mice and humans alike:
"Because, when all is said and done, none of us is very different from any of us."
Do you have other favorite book characters who just happen to be mice, too? Share a reply!