Jim Gibbons, historian, will talk about "Eleanor Roosevelt and the Civil Rights Movement" on Sat., Mar. 25 at 12:30pm at the Irvin L. Young Memorial Library (Whitewater's public library at 431 W. Center St.). This program is free and open to everyone.
Eleanor Roosevelt, as spouse to four-term President Franklin D. Roosevelt (FDR), was the longest-serving First Lady of the United States. After FDR's death in 1945 President Truman appointed her to the first U.S. delegation to the United Nations, where she chaired the Commission on Human Rights and helped draft the Universal Declaration of Human Rights. You can learn more about her at the web site of the FDR Presidential Library & Museum.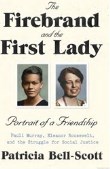 If you'd like to learn more, Andersen Library can help! with books such as Courage in a dangerous world: The political writings of Eleanor Roosevelt (3rd-floor Main Collection, E807.1.R48 A3 1999 or online via EBSCOhost's eBook Collection) and The firebrand and the First Lady: Portrait of a friendship: Pauli Murray, Eleanor Roosevelt, and the struggle for social justice (2nd-floor New Arrivals Island, E807.1.R48 B45 2016).
If you'd like assistance with finding additional resources, please ask a librarian (choose chat or email, phone 262-472-1032, or visit the Reference Desk).
Andersen Library is a federal and Wisconsin depository library with federal and state government documents on a variety of current and relevant issues available to you in various formats (print, DVD/CD-ROM, online). Check out your government at Andersen Library!