There will be a screening of the film "Deepsouth" on Wed., Nov. 30, at noon (running time about 72 minutes) in the University Center's Warhawk Connection Center. You can read a brief synopsis of the film online at its web site. Free popcorn! In addition, free HIV testing is being offered in the Warhawk Connection Center from 11am-3pm.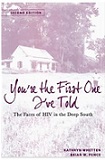 This documentary is about the crisis of HIV/AIDS in the southern U.S. states. According to a Centers for Disease Control issue brief, the "South now experiences the greatest burden of HIV infection, illness, and deaths of any U.S. region, and lags far behind in providing quality HIV prevention and care to its citizens. Closing these gaps is essential to the health of people in the region and to our nation's long-term success in ending the epidemic."
Andersen Library can help you learn more! See books such as You're the first one I've told: The faces of HIV in the Deep South (online ebook via Project MUSE – click View It and then the link; preview some text via Google Books) and North Carolina and the problem of AIDS advocacy, politics, and race in the South (online ebook via Project MUSE or ebrary; preview some text via Google Books). Also see online resources such as the 2014 Daily Comment in The New Yorker "H.I.V.'s Grip on the American South" and information from the Centers for Disease Control such as "HIV in the southern United States" or "HIV and AIDS in the United States by geographic distribution." See also journal articles such as "A faith-based community partnership to address HIV/AIDS in the southern United States: Implementation, challenges, and lessons learned" (Journal of Religion & Health, 2015, vol.54:no.1, pp.122-133) and "HIV diagnoses, prevalence and outcomes in nine southern states" (Journal of Community Health, 2015, vol.40:no.4, pp.642-651).
If you'd like assistance with finding additional resources, please ask a librarian (choose chat or email, phone 262-472-1032, or visit the Reference Desk).
Andersen Library is a federal and Wisconsin depository library with federal and state government documents on a variety of current and relevant issues available to you in various formats (print, DVD/CD-ROM, online). Check out your government at Andersen Library!